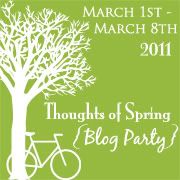 How would people describe your personality? (If they could only use ONE word.) Are they right?
outgoing and yes I am but there is definitely a part of me that wants to stay inside and not talk to anyone
What celebrity/celebrities would create a "Star-Struck" feeling if you saw them in real life?
Garth Brooks- just saw him in one of the Nashville concerts and I was completely star-struck
Who is your favorite blogger? Why?
I love Kellys Korner- She blogs about real life and doesn't make it sound like she has all the answers
What is your comfort food/drink?
My comfort food is chicken tenders and fries. I am from the south so give me a big sweet tea with that and I am good!
Be brave – tell us something very random and weird about yourself.
I have random thoughts all the time. I will be in the car with my husband and just belt out why do birds fly?
Do you have a strong desire to do something you've never done? What is it?
I have a desire to stay at home with my child. I am very lucky that she stays with family while I work and I don't have to do daycare but I feel like I am missing so much!
Movies: Action, Drama, Romantic Comedy, Documentary, Comedy? What are your favorite genres?
I like a different variety of movies. Everything from a good comedy to a drama.. not too much on scary movies though!
Books: Fiction, Non-Fiction, Romance, Biographies, True Stories, Self-Help, Devotional/Study? What are your favorite types of reading material?
Mostly nonfiction but I love Dave Ramsey so I have read his books
Music: Funk, Rock, Country, Jazz, Classical, Film Score, Blues, Classic Rock, Crooner, Alternative, Heavy Metal, Techno? What are your favorite types?
Mostly country but I will branch out a little
If you inherited a million dollars, what is the first thing you would do with your money?
I would stay home with my girl and give money to my church and charities that I support such as St Jude. I would like to say that's all but I would buy a new house, and probably a ton of clothes for Bailey.. I do have a shallow side.
Name one weakness of yours (confession is good for the soul).
I have a weakness for not being satisfied. I want bigger, better.. I am working on it!
If you could live anywhere at all (and take all your loved ones with you), where would you go?
Def Hawaii!!
Strange Talent? Can you juggle basketballs, put your legs behind your head or perform some other strange feat?
Not that I can think of!
What's something you consider yourself to be good at? (Don't worry, it's not bragging, it's acknowledging a God given gift).
I am good at getting great deals on cute clothes for my girl!!
What is one of your favorite things to catch a whiff of?
cookies baking in the oven!
When you leave a social gathering, do you wish: You would have talked more or You would have talked less?
Hmmm depends on the gathering and who I am around... I have been on both sides on this one
If money wasn't a factor, what stores would you shop in?
I would still shop everywhere!
What is your greatest fear or strange phobia?
My biggest fear is that something bad will happen to my husband or daughter.. I don't know how I would go on without them
What is your greatest accomplishment?
Being a mommy and learning from mistakes.. I am not the best but I strive hard to be!
What are your favorite animals?
Dogs but after cleaning up after a toddler and a dog, I think fish are pretty cool!
What movie or book character can you most relate to?
hmmm...I really have no clue!